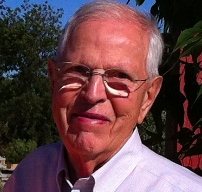 Louis Gilbert
1919 – 2013
Lou was a heartful guy who, in my experience, listened well and engaged creatively, enhancing many conversations with stories and questions.  I enjoyed his stories of living in the area around my hometown, when he was stateside as an army medical officer, and through his tour of duty in the Pacific.  His love of people and places was rich, and among his top 5 places were Beatrice, Pahuk, and La Posada.  I only got to visit Beatrice through his descriptions and Pahuk through more description and Google satellite pictures, but I visited Lou and Geri in their old place in Green Valley and their home at La Posada a handful of times.  Like Geri, Lou was a delightful host and he loved introducing me to people and showing me everything he could of the environment – his favorite place of late being the zen garden.  Our relationship was one in which I gave him some things to think about and he typically, in turn, inspired me with information to ponder and perspectives to take in.
I had the good fortune of seeing him express his love for his neighbors and friends and to see, through the 14 years I've known him, his love for his family.  He had pride in his family's rich history and pride in what his grandchildren are doing with their young lives.  He delighted in sharing updates of what Kaitlin and Ryan are doing, as well as Bill and Jean and Rick and Donna.  His love for Geri, with 70 years of marriage, was undeniable.  His style of expression was possibly more conservative than Geri's but it was stable, grounding, and outspokenly fulfilling for him.
I first met Lou and Geri on June 10th, 1999.  I've been through much with them, including the death of their son, Joel, as well as the passing of their dog, Corgi.  As I think of Lou at this moment, my heart is warmed with having had him in my life.  I enjoyed sharing that with him over the years whenever this same feeling would rise in me while talking with him.  I wish I could have spent more time with him and I hope you all who knew him hold in your hearts the sweet glimmer in his eye that I hold in mine.


Copyright © 2014 Jim Lehrman