COMING SOON!
Ouroboros is an interactive, Socratically-styled vehicle for Self-Inquiry. Like an alchemical oracle, its purpose is to bring the participant to deeper levels of clarity and direction, simply by capitalizing on what the participant does know in the face of a conviction of not knowing enough. Intended for people aged 15 to 115, this is a computer program designed to transform and transform from within …like the snake eating its own tail…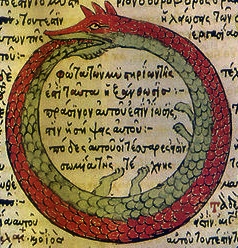 The Ouroboros is an ancient symbol depicting a serpent or dragon swallowing its own tail and forming a circle. As an icon in Alchemical lore, it represents the phenomena of transformation – one season moving into the next, a caterpillar turning into a butterfly, one person's cumulative experience leading to the creation of a new self through the integration of self-understanding into a higher harmonic of self. The symbol celebrates one end becoming the next beginning.
As the symbol and concept of the Ouroboros depicts transformation, this program is designed to support your endeavor to integrate an understanding of yourself into a higher harmonic of the old you. You are invited to be like the snake eating its own tail, to take stock of what you do know amidst the vast overwhelm of not knowing, and to transform that overwhelm into clarity, clarity on which to build a plan and take action. You don't have to go against your own grain to move ahead effectively. Simply become conscious of your own resourcefulness and become a participant in it.
Ouroboros offers no evaluations, assessments, or profiles but rather a process leading to deepening clarity for people in transition in life.
Coming soon. Stay tuned.
If you are interested in being informed as to when Ouroboros will be made available, please share your contact information here:

Comments or questions are welcome.